On the second bylaws amendment (the change to the eligibility requirements for membership) the results are:
Proposal A (open to all who agree with our mission): failed
Proposal B (open to those with an associate or equivalent degree): PASSED!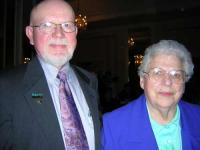 Roger Sween of Minnesota submitted the language for the amendment that opened the membership. Frieda Schurch made a passionate statement from the floor that may have been the turning point of the debate. See the Convention Daily for more on her statement.