The South Atlantic regional meeting was a great time to thank Ann Terry for her two years' service as Regional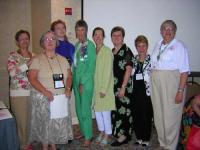 Director, wish her well with her new responsibilities on the Association Board, welcome Leslie Henderson as Regional Director and thank all the state presidents for their leadership.
Click the picture for a larger version. Those pictured are (L-R) Leslie Henderson (incoming SAR Director), Ann Terry (outgoing SAR Director) and current state presidents: Trish Johnson (SC), Carol Newnam (FL), Joanne Hill (NC), Nancy Joyner (VA), Paula Chambers (GA), Karen Coleman (WV).