Since 1953, AAUW of North Carolina has partnered with the NC Literary and Historical Association to present an award in recognition of the most significant work of original juvenile literature published over the course of the last year by a North Carolina author. 
This year's recipient is a new children's author, Meg Cannistra. The title of her book is "The Trouble with Shooting Stars". Meg grew up in Sarasota, Florida, where she spent her childhood chasing after older sisters and cousins and learning how to cook. After living in New York City and northern New Jersey for a few years, Meg now resides with her two cats, Gloom and Doom, in Charlotte, North Carolina where she works for Wells Fargo. She has a BA in English literature from Flagler College and an MFA in creative writing from Hamline University.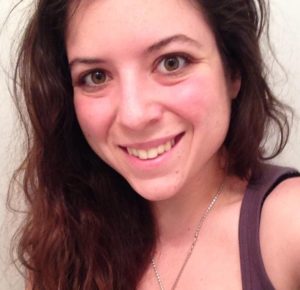 Meg is the co-chair of We Need Diverse Books mentorship program. Their mission is to imagine a world in which all children can see themselves in the pages of a book. The mentorship program provides help to beginning writers with an opportunity to work with an established picture book, middle grade, YA published author or illustrator who understands the challenges and importance of incorporating and promoting literature that reflects and honors the lives of all young people. They recognize all diverse experiences, including (but not limited to) LGBTQ, Native, people of color, gender diversity, people with disabilities, and ethnic, cultural, and religious minorities. Each branch throughout our state has been sent a copy of the book to be shared with their members and to be given to their local or regional public library or Friends of the Library. Check with your local library to follow their donation guidelines.
About the Book: "The Trouble with Shooting Stars"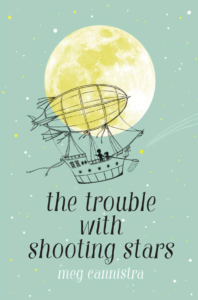 Meg weaves two tales together masterfully. On one side she carries the personal and family drama that the main character Luna endures, and on the other side is the mysterious and magical new neighbors that have moved in next door. The story might seem simple at first, but the story digs deep into Luna's world. Luna is a 12-year-old little girl who was in a horrible car accident who now must wear a face mask so that her scars can heal. She loves the nighttime more than anything in the world because she doesn't have to wear her face mask and people don't make fun of her and she can sit outside of her home and draw what she sees. Like the boy and girl from the new family next door…zipping out of the window in a zeppelin and up to the stars. At first, she thinks she's dreaming. But one night they catch her watching. Now Luna spends her nights on adventures with them, as they clean full moons, arrange constellations, and catch jars of stardust. She even gets to make a wish on a shooting star they catch. But Luna learns that no wish is strong enough to erase the past—as much as she may hope to.
This book is brimming with hope, healing, the importance of family, and sparkles with whimsical adventures that act as an escape for Luna, while she heals, physically and mentally from her trauma.
Lil Van Order (Cape Fear Branch) serves as the Literature Representative for AAUW NC and is one of the judges of this award.  AAUW NC purchases one copy of the winning book for every branch to present to their local public library and the author's books are available for sale at the Annual Conference in the spring.