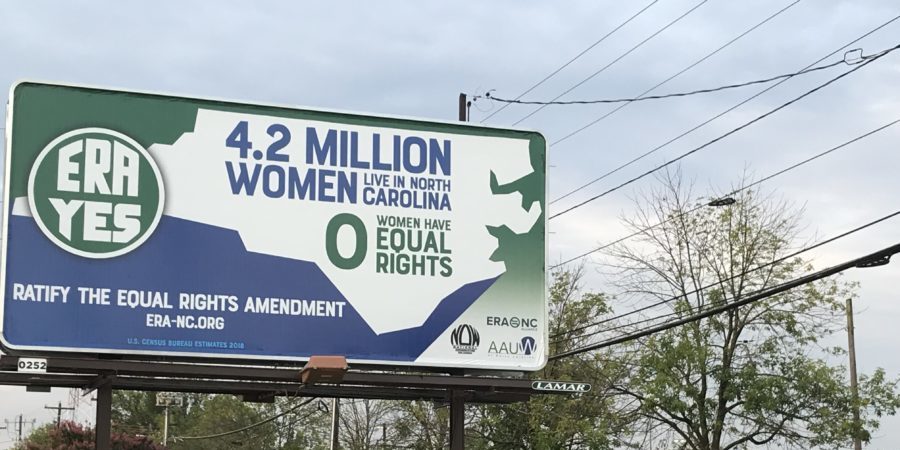 Folks are starting to see the billboards in four locations around the state:
Wilmington on S. College Rd southbound, just north of Randall Parkway, beside the Mattress Capital
Concord at Hwy 29/601 southbound at Hartman Place NW, beside Pro-Tint
Greensboro on Coliseum Blvd northbound, just south of W. Gate City Blvd, across Coliseum Blvd from the Coliseum
Raleigh on I-40 eastbound, after Lake Wheeler Rd, Exit 297, just before South Saunders St., Exit 298
AAUW NC collaborated with its partners NC NOW and the ERA-NC Alliance to place these billboards in high traffic locations around the state.
Why? To start a BUZZ about the ERA — unless the people are talking about why this important, the NC General Assembly will let the bills to make NC the final state to ratify the ERA — a chance it missed with the 19th amendment!
More about the billboards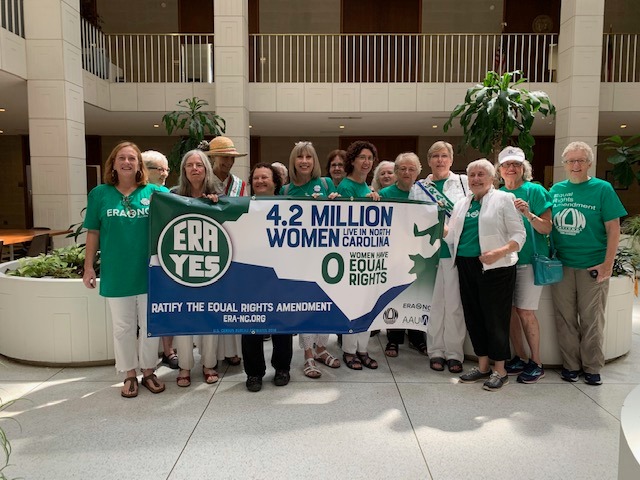 AAUW NC President Jane Terwillegar (above in white jacket to the right of the banner) spoke at the press conference that unveiled the ERA Billboards for the NC General Assembly.
Read Jane's Remarks
WUNC on the event
So what can you do?
Take a picture of one of the billboards and share it on social media — or send it to editor@aauwnc.org and we'll include it in our gallery.
Make sure your representatives in the NCGA support the ERA (and if not, that they know you do!)
Review the FAQ from ERA-NC and talk about this with your friends, the person in line at the grocery store, and more — especially those who might have seen the billboard but wonder what in the world is going on. (So many people think the ERA passed years ago!)
See the ERA-NC list of how to get involved — including joining the alliance as an individual or a group.
Other ideas? Send them to info@aauwnc.org and we'll pass them along!