Since 1952, AAUW of North Carolina has partnered with the NC Literary and Historical Association to present an award in recognition of the most significant work of original juvenile literature published over the course of the last year by a North Carolina author. 
This November, the 66th AAUW NC award was presented to author Kelly Starling Lyons for her book, Going Down Home with Daddy, illustrated by Daniel Minter, Peachtree Publishing Company, 2019.  The award was presented Nov. 7th during the 119th Annual Meeting of the NC L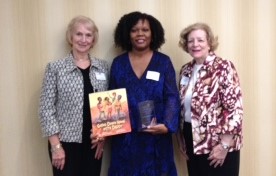 iterary and Historical Association by Cherrie Wheaton, Past president AAUW NC and Kathy Pearre, Vice-President AAUW NC. This is the second time Kelly Starling Lyons has received our award, winning in 2003 for her book, Tea Cakes for Tosh, illustrated by E. B Lewis, Putnam's, 2012.
January 27, 2020 update: Going Down Home with Daddy was named as one of the three Honor books in the competition for the prestigious 2020 Caldecott Medal awarded to the most distinguished picture book for children. Congratulations to Kelly Starling Lyons and to the books illustrator, Daniel Minter! Learn more.
Lil Van Order (Cape Fear Branch) serves as the Literature Representative for AAUW NC and is one of the judges of this award.  AAUW NC purchases one copy of the winning book for every branch to present to their local public library and the author's books are available for sale at the Annual Conference in the spring.