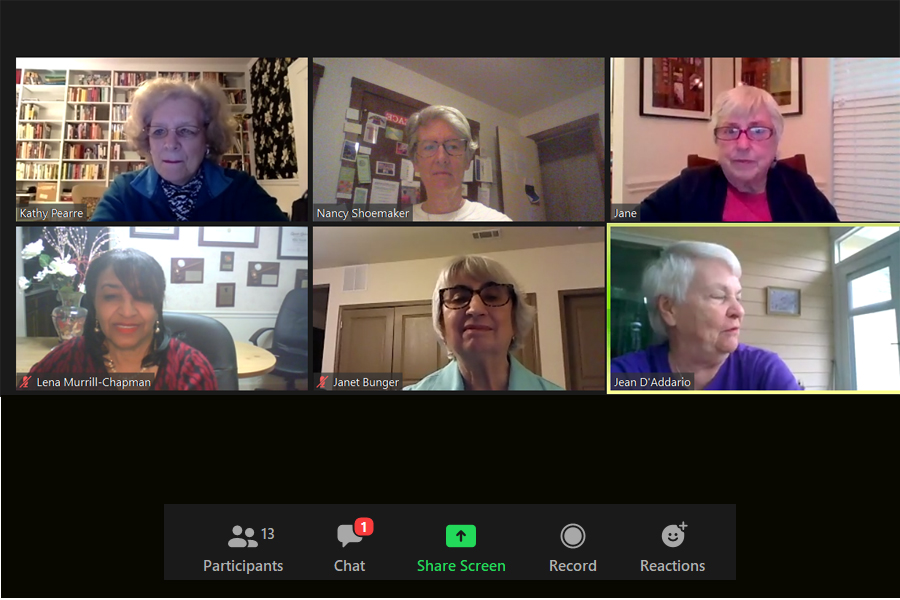 Virtual Meeting Included 16 of 18 Branches
Our first virtual Annual Meeting on May 13, 2020 attracted 65 members from 16 branches! That's much better than our "usual" and we are glad to provide this easier way to connect and do the business of AAUW in the state.
Michelle Evans, co-president of the Tar Heel branch, summarized the meeting with these highlights:
President Jane Terwillegar did a great job hosting the meeting!
Congratulations to Kathy Pearre and Wendy Haner who will continue their AAUW NC leadership roles. Kathy will remain as Vice President and Wendy will remain as Treasurer.
Kate Nielson (AAUW Director of Public Policy and Legal Advocacy) joined us virtually and shared the current national blueprint. AAUW will focus on coordinated advocacy including voting, healthcare and ERA to name a few.
Keep an eye out for upcoming virtual meeting announcements.
Connect, the newsletter is being emailed often.
AAUW's Kate Nielson was a surprise guest. Kate originally planned to attend our Annual Conference, so she agreed to spend a few minutes with North Carolina members at the Annual Meeting. Kate urged members to check out AAUW's new website, especially AAUW's 2020 Gender Agenda which was announced earlier in the year. Her final message: Keep up our vital work during these uncertain times!
We recorded the meeting and you can listen to about 10 minutes of Jane's President's Message and Kate's remarks here. Jane's intro of Kate starts about minute 4:30.