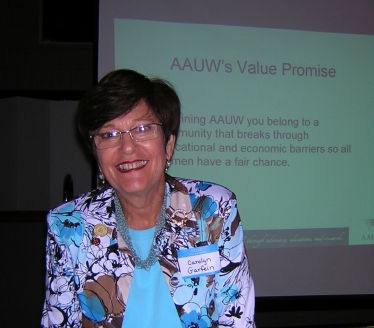 At the AAUW NC 2008 Summer Meeting, Carolyn Garfein, member of the AAUW Educational Foundation board, spoke to us about recent changes in AAUW and the proposed changes for the organization once AAUW (the membership organization) and the Educational Foundation (the charitable arm) combine their assets and activities as of July 1, 2009 (as voted at the 2007 national convention).
The proposed bylaws were distributed by e-mail to AAUW leaders earlier in the month, and AAUW NC President, Millie Hoffler-Foushee printed copies for the attendees at the meeting. See AAUW Indiana for the text of the proposed bylaws and an explanatory memo
Handouts for Carolyn's presentation
If you'd like to show the info to a group (rather than just distribute the handouts and/or the proposed bylaws or other information) here are Carolyn's slides –
For more information on the changes, see AAUW Briefing Series (in the www.aauw.org Member Center).